Features
A needle-style meter with large high-visibility note name and string name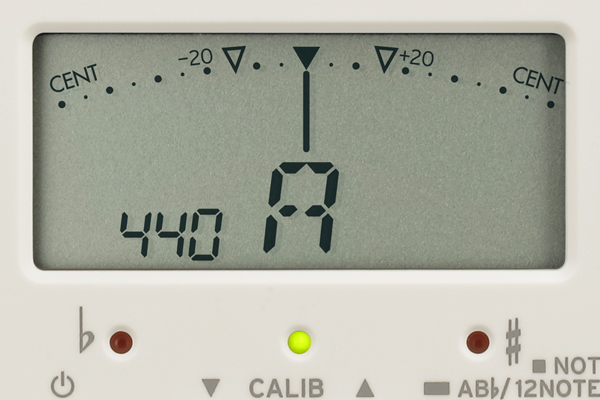 KORG's needle-style meter that shows you the pitch quickly and accurately now has a note name and string name display area that's approximately four times larger, making it easier than ever to read. Red and green LEDs to indicate the pitch discrepancy are also provided for even smoother tuning.
A compact body that's slim and lightweight
The CA-2 is a pocket-sized card-type tuner that's easy to carry anywhere. The rounded body is comfortable to hold in your hand, and now has an even more stylish design that accents the battery compartment. It uses a new mechanism that lets you replace the battery by sliding the entire body, so there's no risk of losing the battery compartment cover.
Tuning function suitable for a variety of instruments
Wide range of pitch detection covers any instrument
The CA-2 supports a broad range of A0-C8, allowing speedy and high-precision tuning of wind, string, keyboard, and other instruments. In addition to the high-sensitivity built-in microphone, a separately sold CM-200 contact microphone can be used to send the vibrations directly to the tuner for even more accurate tuning.
Pure major third and minor third markings
Inaccuracies of the harmonies in a triad are particularly easy to notice when played by an ensemble such as a brass band or orchestra. By slightly adjusting the pitch of a major or minor third relative to the equal-tempered interval, a beautiful-sounding pure third can be obtained. The meter scale of the CA-2 includes markings to indicate pure major and minor thirds relative to a specified pitch. Simply by tuning your instrument to these markings, you can perform beautiful, pure harmonies when playing in an ensemble.
Adjustable calibration for a wide range of concert pitches
The calibration function (410-480 Hz) can be adjusted in 1 Hz steps for accurate and flexible tuning to any song or key.
Sound mode emits a reference tone from the built-in speaker
In addition to tuning visually with the meter, you can also tune by ear using a Sound Out mode that's chromatically adjustable in the range of C4–C5.
Approximately 200 hours of continuous use
The high-efficiency long-life design allows approximately 100 hours of continuous operation on two AAA zinc-carbon batteries or approximately 200 hours on alkaline batteries.
---
Specifications
Scale

12 note equal temperament
Detection Range

A0 (27.50Hz) - C8 (4186.01Hz): Sine wave
Reference Tone

C4 (261.63Hz) - C5 (523.25Hz): One octave
Tuning Modes

Meter mode, Sound Out mode
Calibration Range

A4 = 410Hz - 480Hz (1Hz steps)
Detection Accuracy

+/- 1 cent
Sound Accuracy

+/- 1.5 cent
Connectors

INPUT jack (1/4" monaural phone jack
Power Supply

Two AAA batteries (3V)
Battery Life

Approximately 200 hours (alkaline batteries, Meter mode, A4 continuous input)
Approximately 100 hours (zinc-carbon batteries, Meter mode, A4 continuous input)
Dimensions (W x D x H)

100 x 60 x 16 mm / 3.94" x 2.36" x 0.63"
Weight

67 g / 2.36 oz. (including batteries)
Included Items

Two AAA batteries for verifying operation
Accessories

Contact Microphone CM-200




**All product, company, and standard names are trademarks or registered trademarks of their respective holders.
**Appearance and specifications of products are subject to change without notice